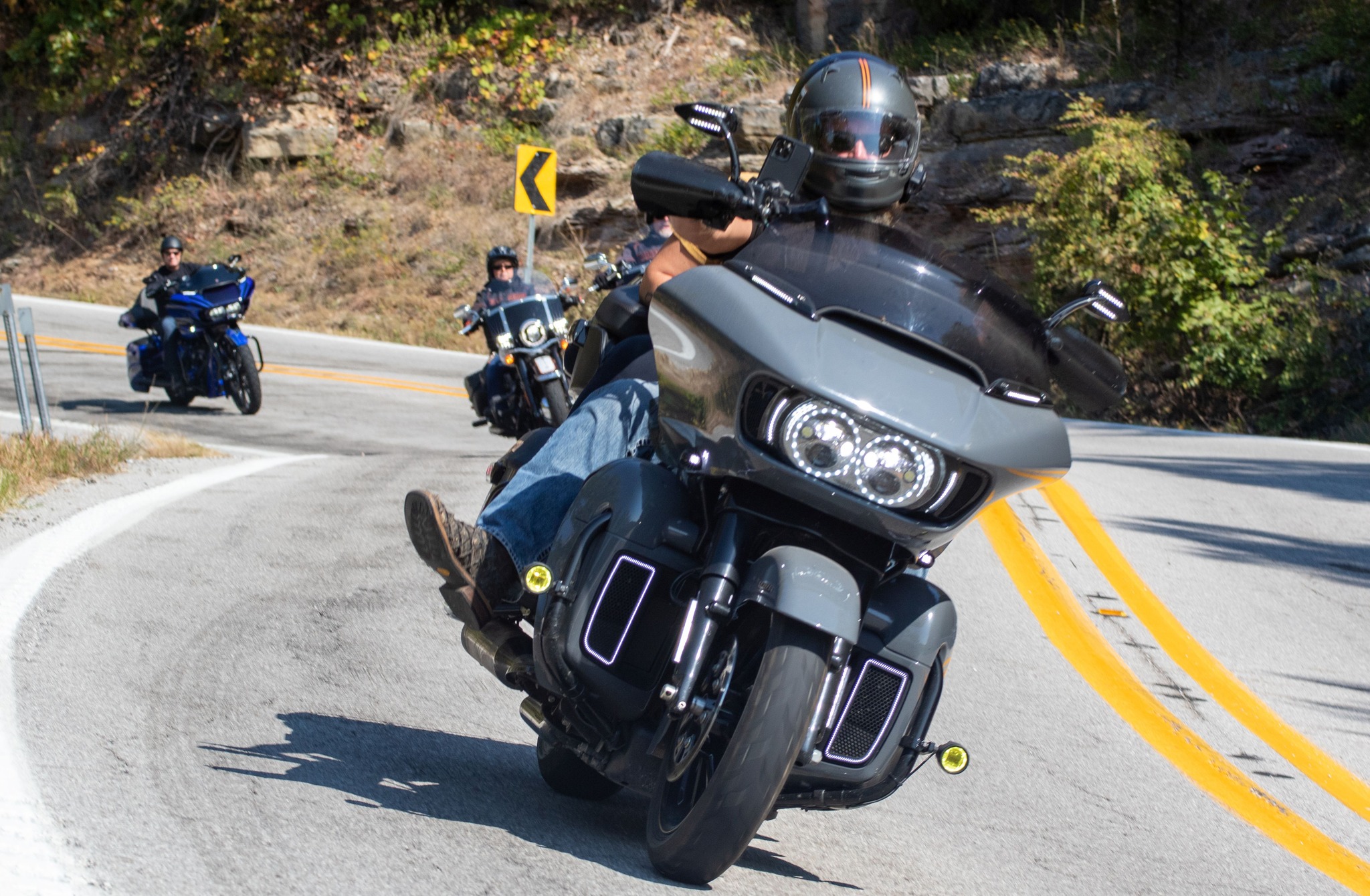 Bikes Blues & BBQ has been a special motorcycle rally for us on a lot of different levels which is so fitting to title this blog: Road to Bikes Blues & BBQ.

Of course, the physical "road" that leads to BBB is a ride that you will never forget no matter what direction you are coming to the rally from. Remember learning little tricks in grade school to remember important facts? I learned this mnemonic phrase: Never Eat Soggy Wheat to memorize the compass directions: North East South & West. So, let's take a look at the physical road to BBB!
North: Coming from Missouri you will most likely be riding through Roaring River State Park.
East: Coming from East Arkansas will enter heaven also known as Northwest Arkansas.
South: Coming from South Arkansas you will no doubt be passing through the Ozark St. Francis National Forest.
West: Coming from Oklahoma you will be riding through the thickness of the Cherokee Nation!! No matter the direction you ride… You will be surrounded by the beauty of the Ozarks!
What about the mental road to Bikes Blues & BBQ? We all have questions about a motorcycle rally itself when attending for the first year. What is the layout? What is the purpose of the rally? Where do I stay? What should I expect from the rally? Will there be LIVE music? These are valid questions for anyone who!!
Bikes Blues & BBQ is one of the largest charity motorcycle rallies not only in the area but in the United States! With a huge passion for the motorcycle community & giving back/Pay It Forward; the rally being a charity rally is vital to our attendance year after year. Bikes Blues & BBQ 2022 we hosted a guided ride that benefitted children in Northwest Arkansas with learning to ride bicycles which we will be hosting again for 2023! Another aspect that we love is that it isn't confined to one particular area or town. Bikes Blues & BBQ is spread out from Rogers, Arkansas to Eureka Springs, Arkansas. Don't get us started on the ride between these two places… it is one of our favorite rides & is literally the route for our annual guided ride! We can't help it - it is phenomenal! Another feature about Bikes Blues & BBQ is the music scene this year! Hands down something we are very excited about. Downtown Rogers at the Railyard has free concerts, Pig Trail Harley-Davidson has music, downtown Eureka Springs has music & of course, the official campground for the rally: The Farm, has music!!
Custom Motorcycles, Food, Bike Shows, Bike games, Vendors, Music, Guided Rides, Charity opportunities & fun! This is the road to Bikes Blues & BBQ & we can't wait to see you there!